Serves: 2
Prep 15mins, Cook 45mins
193 kcals / serving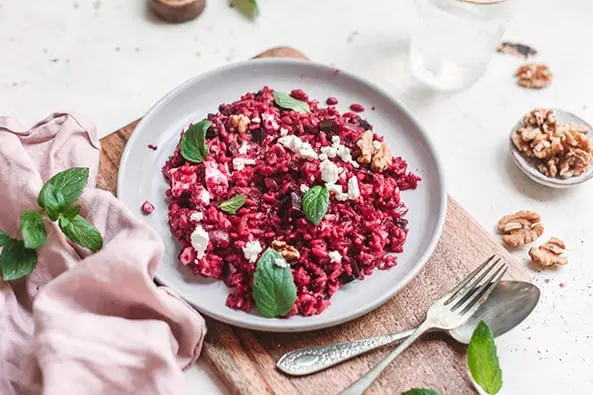 Recipe Info

It wasn't so long ago that beetroot seemed to be a boring veg but now it has super food status and what's more it's totally delicious. If going for the pickle jar isn't your thing then check out this wonderful beetroot risotto with juicy roasted beets to make the perfect lunch or warming supper.

Instructions
Step 1 -
Start by pureeing two of your cooked, peeled beetroot. Finely chop the remaining two and set aside.
Step 2 -
Heat some oil or butter in a pan. Add the onion and garlic and cook until softened and golden.
Step 3 -
Add in the risotto rice and stir well to coat.
Step 4 -
Add two ladlefuls of veg stock and cook on a simmer until the stock has disappeared. Add another ladleful of stock and repeat, stirring your risotto often.
Step 5 -
Repeat with the veg stock until the risotto or quinoa has softened and is cooked through.
Step 6 -
With one final ladleful of veg stock, add in the beetroot puree and chopped beetroot. Continue to simmer and cook until the liquid has disappeared. Stir through the fresh mint and a handful of feta. Season, if needed.
Step 7 -
Spoon into bowls and scatter over more fresh mint, the walnuts (if using) and the remaining feta. Enjoy warm.
Ingredients
4 Beetroot, washed and roasted until soft
70 g Chopped feta
100 g Chopped walnuts optional
2 Cloves garlic minced
Handful fresh mint
1 Onion peeled and chopped
400 g Risotto rice, quinoa or spelt
1 1/2 l Vegetable stock