Serves: 6
Prep 20mins, Cook 30mins
676 kcals / serving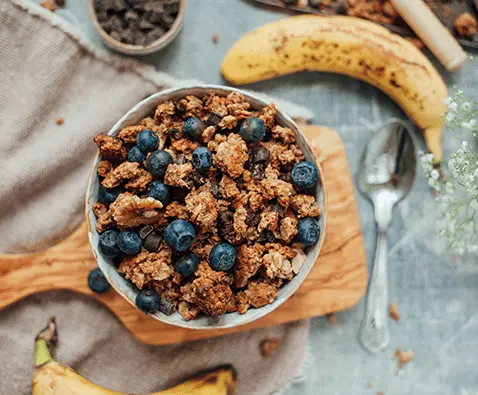 Recipe Info

Who would like this super banana bread granola today? Too delicious to keep just for breakfast alone, we could eat it at any time of the day. We've used vegan ingredients but you can substitute butter for coconut oil if you like. Once you've made our version, you will find a hundred and one variations of your own. We'd love it if you could share them with us too.

Instructions
Step 1 -
Preheat oven to 160C and line 2 baking trays.
Step 2 -
Grind half cup of walnuts to powder - chop the rest of the walnuts
Step 3 -
Sift together all dry ingredients including nuts, Banana Protein Smoothie, arrowroot, coconut sugar, cinnamon and salt.
Step 4 -
In a saucepan on a low heat melt coconut oil, brown rice syrup and peanut butter, stirring until smooth.

Step 5 -
Remove from the heat, then stir through the vanilla. Place in a blender with the banana and blitz smooth. 

Step 6 -
Stir your dry ingredients together with your wet, until the mixture starts to stick and clump together. It IS a wet mixture, which means that this will be crunchy clusters of granola. However, feel free to add more ground almonds or more oats if it's too wet for you!
Step 7 -
Turn the oven off, then leave the granola inside the oven, door open, for half an hour (this will allow your granola to crisp even more). Remove from the oven, then allow to cool.
Step 8 -
Once cool, stir through dried fruit of choice and chocolate chips. Place in airtight containers until ready to eat. Serve as a snack, with yogurt or milk.
Ingredients
3 cup Oats
1 1/2 cup Walnuts
1 scoop Banana Protein Smoothie
2 tbsp Arrowroot
2 tbsp Coconut sugar
1 tbsp Cinnamon
1 pinch Salt
2 Bananas very ripe
3 tbsp Coconut oil
4 tbsp Brown rice syrup or maple syrup
4 tbsp Peanut butter
2 tbsp Vanilla paste
Sprinkle of dried fruit and dark chocolate chips to serve