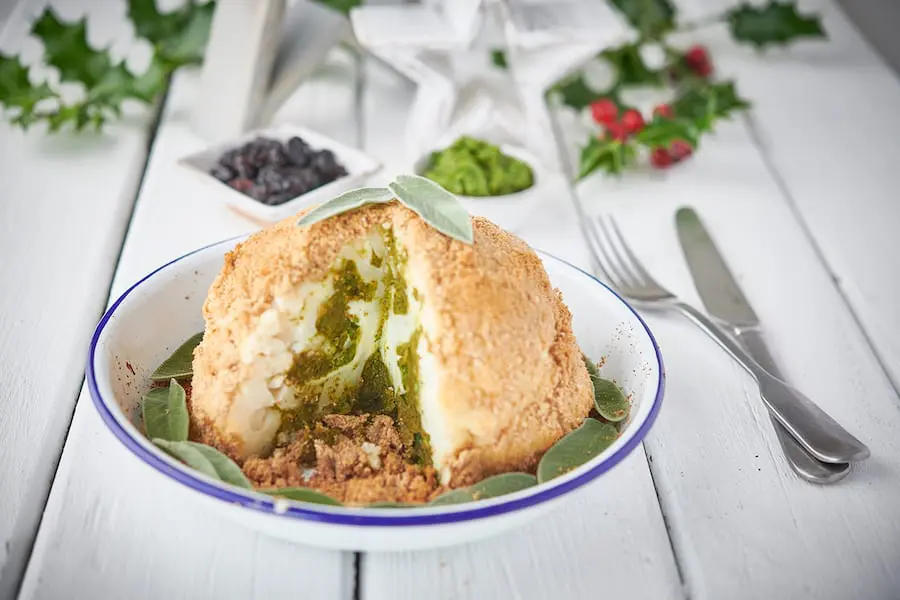 Recipe Info

There is quite a lot of preparation to this dish, so we recommend that you get it ready the day before and pop in the fridge so that it's ready to roast on Christmas Day. It's a tasty vegetarian/vegan alternative to a nut roast or vegan haggis and provides a pretty side dish for meat lovers.

Instructions
Step 1 -
Trim off any leaves and gently cut out the core of the cauliflower to reveal a cavity. The tricky part is keeping the florets intact. Serve with any extra crisp bits that have fallen into the tray.
Step 2 -
Immerse in a pan of boiling, salted water and cook for 7 minutes. Remove from the pan with slotted spoons and put aside to cool.
Step 3 -
Add the kale and spinach to the pan and cook for 1 minute, until wilted. Run under cold water to prevent further cooking. Drain and squeeze to remove any water.
Step 4 -
Mix linseed with 50ml (3 tbsp) of water and set aside for 5-10 minutes for the water to be absorbed, this will bind the stuffing together.
Step 5 -
Heat 2 tbsp oil in a frying pan, add the chopped onions with a pinch of salt and cook until softened. Add the garlic, sage, rosemary, 150 g chestnuts, cranberries, kale and spinach mix and cook for a further 1-2 minutes.
Step 6 -
Remove from the heat and season. Allow to cool slightly and blend with 150ml water and the linseed mix to a thick purée.
Step 7 -
Transfer the stuffing mix to a piping bag and pipe into the cauliflower filling all spaces from below. Place right way up on a baking tray and pipe more stuffing into any spaces between the florets. You can pre-make the cauliflower to this point the day before and keep in the fridge overnight.
Step 8 -
Heat the oven to 200C/180C fan/gas 6. Mix the remaining chestnuts and ground almonds and season. Rub olive oil on the cauliflower and pat the almond and chestnut mix on to the outside ready to form a crust when baked.
Step 9 -
Roast for 45 to 50 minutes until the cauliflower is tender and golden brown. You may need to put under a hot grill to crisp.
Ingredients
2 Small cauliflower or 1 large one.
5 tbsp Olive oil
200 g Kale, roughly chopped
50 g Spinach, roughly chopped
1 Large red onion, finely chopped
2 Garlic cloves, finely chopped
1 tbsp Linseed, milled
1 tbsp Cranberries, chopped
200 ml Water
10-15 Sage leaves, torn
1 Stem Rosemary leaves only, finely chopped
2 Lemons, zest only
Nutmeg, grating
30 g Chestnuts, cooked, finely chopped
30 g Ground almonds