Serves: 4
Prep 20mins
91 kcals / serving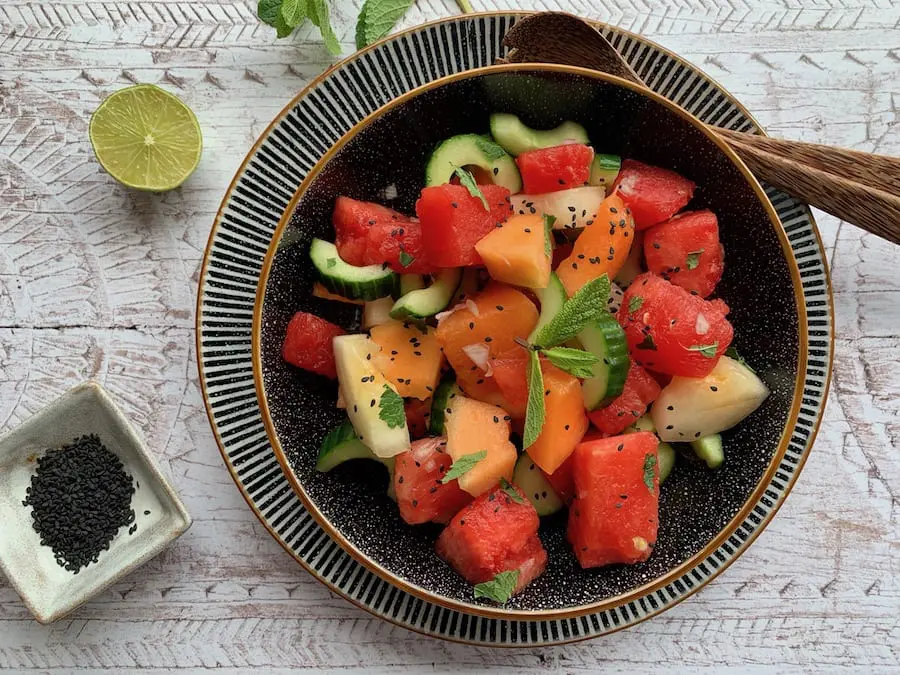 Recipe Info

A delightful light recipe to have as a main course or starter.

Instructions
Step 1 -
Whisk ingredients for the dressing together and set aside.
Step 2 -
Cut up all melons and remove seeds, chop into small mouth sized cubes.
Step 3 -
Cut cucumber in half and scoop out the seeds. Slice to give semi circles. Combine watermelon and cucumber. Drizzle with salad dressing and top with chopped mint.
Ingredients
1/2 Watermelon
1 Honey dew melon
1/2 Cantaloupe
1 Cucumber small
2 tbsp Walnuts chopped
1 Sprig mint leaves chopped.
1 Small red onion finely chopped
1 tbsp Lime juice
1 tsp Coconut nectar
2 tsp Sesame oil
1 tsp Tamari
1 tsp Finely grated ginger