The original and best collagen drink
Our award-winning Collagen Shots® drink promotes more youthful skin by reducing fine lines and wrinkles, and increasing skin hydration and elasticity.
Containing a blend of 10,000 mg of hydrolysed marine collagen, antioxidants, vitamins and hyaluronic acid. Collagen Shots is in a ready to mix powder, just stir in water and drink daily.
Premium 10,000mg marine collagen powder
Why our collagen is so good. Read more
30 servings per pouch. Just £1.22 per drink
Add water, stir and drink
Enjoy daily. How soon will I see results?
Collagen Shots helps to:
Improve skin elasticity
Reduce fine lines and wrinkles
Increase skin hydration
Improve skin radiance
More
Contains
10,000 mg of hydrolysed marine collagen. Why take a collagen supplement
Açaí berry antioxidant
Hyaluronic acid
Vitamin B3, B5, B6, C with zinc and copper
More
Marine Collagen
Collagen is the most abundant protein in the body
Gluten and dairy-free
Suitable for diabetics
Natural, sustainable ingredients
Natural, sustainable ingredients
How to take drinkable collagen supplements
Take on an empty stomach either first thing in the morning or at night. Add one sachet of powder into a glass or water bottle with 200-250ml of water and mix.
Who shouldn't take this?
If you have a fish allergy this product is not suitable for you.
"BEST SKIN SUPPLEMENT. This supplement is packed with marine extract collagen, antioxidant açai berry, hyaluronic acid and Vitamins B and C. Drink every morning for plump, youthful looking skin." Daily Express

Why our collagen is so good
Our collagen powder has been formulated with a unique amino acid profile to increase the production of collagen naturally. This formula is exclusive to Rejuvenated. The youth-boosting ingredients work together to firm and smooth the skin, strengthen hair and nails, as well as much, much more.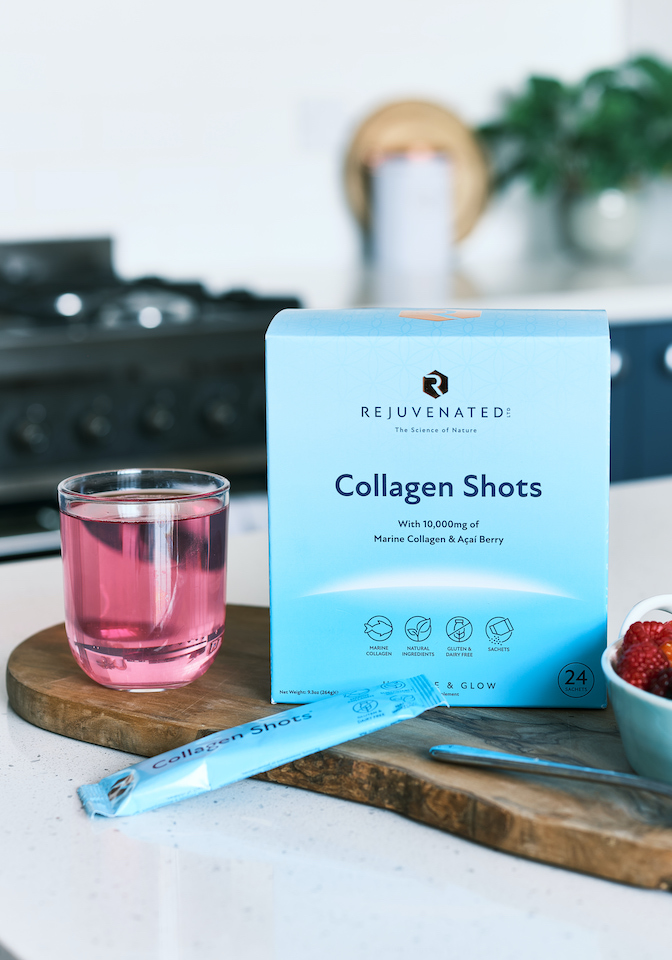 How soon will I see results?
Our collagen shots reviews speak for themselves, with many feeling results within a matter of weeks.
Collagen Shots helps to
Improve skin elasticity
Reduce fine lines and wrinkles
Increase skin hydration Improve skin radiance
Support hair growth and strengthen nails
Support bone and joint health
Reduce cellulite and stretch marks
Help to repair muscle tissue and heal wounds
Promote healthy blood sugar levels
Calm inflammation in the gut
Aid beauty sleep
Help menopausal symptoms including hot flushes and mood swings
Ingredients
Açai berry
Açai berry is a super food antioxidant which contains youth boosting vitamins and essential fatty acids to moisturise the skin.
Hyaluronic acid
Hyaluronic acid is often referred to as the fountain of youth; it can hold up to 1000 times its own weight in water to hydrate and nourish the skin.
Copper
Copper supports connective tissues and helps to protect cells from oxidative stress
Zinc
Zinc protects against stress, free radical damage and supports healthy DNA synthesis.
Vitamins B3, B5, B6, and C
Vitamins B3, B5, B6, and C enhance the absorption of collagen by the body
Why take a collagen supplement
After the age of twenty-five, collagen synthesis reduces at a rate of 1.5% a year, and by the age of forty-five, collagen levels can have fallen by as much as 30%. The visible effects of this process are the appearance of wrinkles, fine lines and dry skin. Studies have shown that supplementing your collagen levels by ingesting the collagen in Collagen Shots can improve skin elasticity and help to promote radiance. Looking good is feeling rejuvenated.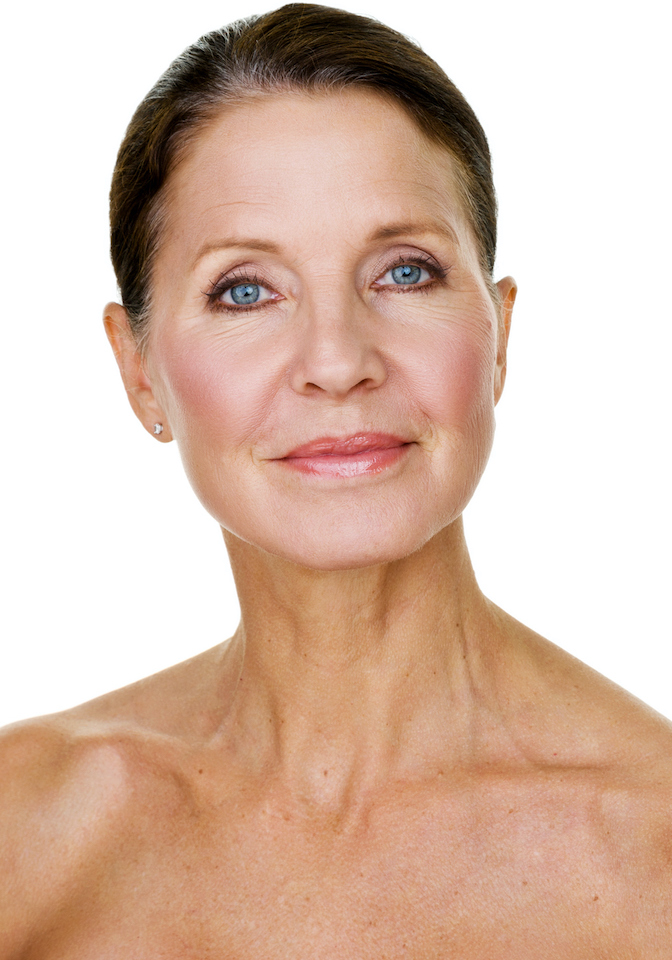 Collagen Shots (24 Sachets) FAQs
Q: What are Collagen Shots?
A: Collagen Shots is a clinically formulated, functional beauty drink designed to naturally support firm, youthful skin.…… Read more Collagen Shots naturally supplement your skin's collagen levels and hydration to improve its firmness and texture, reducing the appearance of fine lines and wrinkles associated with ageing.
The unique and unrivalled formulation of Collagen Shots combines a blend of peptide-rich amino acids with hyaluronic acid, natural antioxidants and a range of vitamins and minerals clinically proven to improve the tone and texture of the skin.
Compared to rival products, Collagen Shots contain more hydrolysed collagen (10,000mg/serving), is entirely natural, and incorporate the powerful natural antioxidant Açaí Berry. Collapse
Q: How does the body use collagen?
A: The proteins (amino acid peptides) pass through the stomach wall into the blood stream. Studies show that over 90% of these proteins are absorbed within 6 hours.
Q: Can collagen improve your skin?
A: YES! Research has shown that orally ingested collagen can increase collagen synthesis and improve hydration levels in the skin, which has been reported to:… Read more - Reduce the appearance of lines, wrinkles & 'crow's feet.
- Make skin appear younger
- Increase skin firmness
- Improve elasticity of the skin
- Reduce skin dryness
- Increase skin smoothness
The skin is the largest organ in the body, the most visible and arguably exposed to the greatest combined negative effects of intrinsic ageing, including reduced collagen synthesis (Fligiel et al., 2003), environmental factors such as sunlight (Chung et al., 2001) and lifestyle choices, like smoking (Rexbye et al., 2006).
As we age, the appearance and functionality of the skin changes, most striking of these are wrinkles, lines, dryness and sagging skin (see Gilchrest, 1989 for review). Collagen is crucial for maintaining the structure of the skin (Uitto, 1986) and therefore, youthful radiance and firmness.
Within the deep layers of the skin, cells called fibroblasts are responsible for providing skin tension and continuously producing collagen and elastin (Grinnell, 2003). In young skin, the number and productivity of the fibroblasts is high giving skin firmness and strength
Reviews for Collagen Shots (24 Sachets)