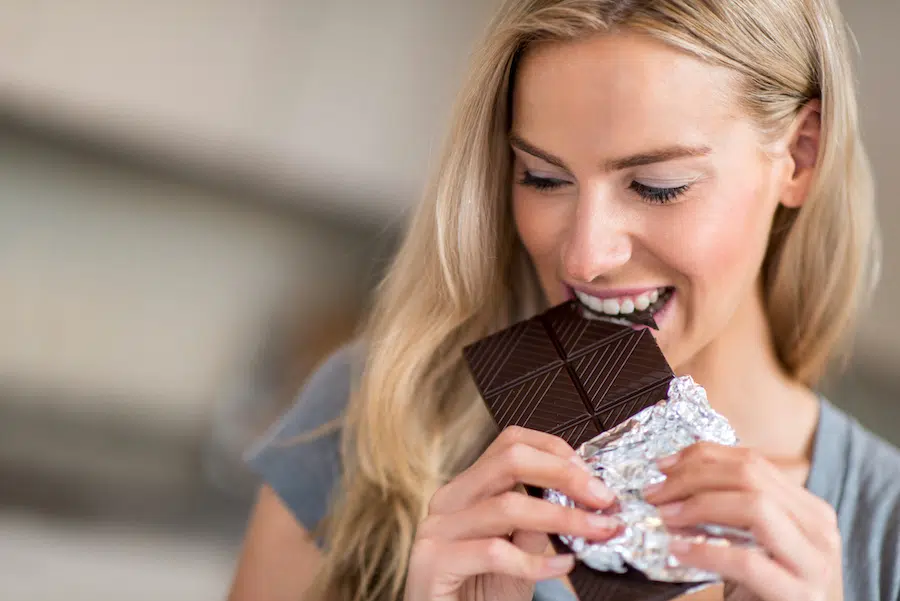 Is there a scientific reason for choosing chocolate with 70% cacao and above and does this make chocolate a superfood?
Dark chocolate has long been hailed as a superfood, with endless studies showing that it may have proven medical benefits. In particular, dark chocolate has been linked to improving heart health and circulation, it may even help to give the brain a boost!
Dark chocolate is one of the most highly rated superfoods and tops many others, including blueberries and açai berries. It has more magnesium, chromium, iron and zinc per serving than any other food and is rich in antioxidant compounds, including polyphenols, flavonoids and catechins.
What is the difference in sugar content when you compare milk chocolate such as Dairy Milk, vs dark chocolate?
While milk chocolate may taste deliciously creamy, the cocoa solids are diluted by the addition of milk and sugar. A bar of Dairy Milk contains a whopping 56g of sugar per 100g while that same 100g of Green and Black 85% cacao solids contains just 14g of sugar. There is a huge difference between the two, while milk chocolate is creamy and intensely sweet, dark chocolate is usually an acquired taste. It has a bitterness which allows it to be combined with some interesting flavours such a goji berry, lime, chilli and ginger. Studies have shown that the proteins in milk chocolate may hinder our body's ability to absorb the health-boosting antioxidants from cocoa. For this very reason, you should avoid drinking milk with your chocolate!
Is there a difference between raw vegan chocolate and dark chocolate and if so is it nutritionally better for you?
Definitely go for raw if it's to your liking as it contains enzymes which help to improve digestion. Raw chocolate is usually blended with cocoa butter or coconut oil as emulsifiers (which bring their own benefits!) It has a higher amount of antioxidants, as dark chocolate usually has added sugar and milks.
The more chocolate is processed, the less of the good stuff there is, but there are still great benefits to be had from cacao solids of over 70%.
Is it ok to make chocolate a daily treat and if so, how much is good for us?
Good news for all you dark chocolate lovers – researchers found that eating 30g of dark chocolate on a daily basis could be just what the doctor ordered. Studies have indicated that this small amount of chocolate can help to lower blood pressure. Studies have also linked chocolate to helping prevent inflammation, reduce stress and may even improve our memory.
How much chocolate do you need to eat to get the health benefits?
30-60g of the dark stuff is the right amount to top up our level of flavanols which serve as antioxidants. Just one square a day can help to improve heart health. A study showed that it could decrease your risk of a heart attack or stroke by almost 40%. Unfortunately eating more than this can lead to weight gain, as just 100g bar of 85% dark chocolate contains around 600 calories.
When buying chocolate, is there anything else you should look out for on the label? E.g. when I look at the label, sugar always seems to be listed first – is this a bad thing?
The percentage of sugar in chocolate is determined by the processing methods used to make it. While some sugar is ok for us, an excessive intake will adversely affect our health. The important thing is that we stick to just a couple of squares daily rather than one of the large bars we get offered in motorway service stations. Chocolate is also relatively high in fat. However, the dietary fat in dark chocolate is called 'stearic acid', which doesn't affect blood lipid levels as much as some fats do.
Which chocolate brands would you recommend? Why are these your favourites?
I naturally take my research seriously and had to sample some products to be sure to give the best recommendations. Ombar is definitely up there as a favourite, their bars range from 100% raw cacao down. At £1.99 they can be an affordable daily treat and come in cute 35g single serving bars. Green and Black organic chocolate is delicious, the company launched in 1991 and they're still winning awards, being voted a cool brand for 10 consecutive years by CoolBrands. New to me is Doisy and Dam, it has some interesting and very novel flavours.
Do you have any tips to curb a chocolate craving without actually eating chocolate and still get the full indulgent taste?
The perfect healthy option is a raw cacao protein smoothie. It gives all the goodness of antioxidants combined with protein to fight off hunger for several hours. What could be better than a healthy chocolate breakfast.
But if you can sneak in a little chocolate then this recipe for avocado chocolate mousse is a total treat.