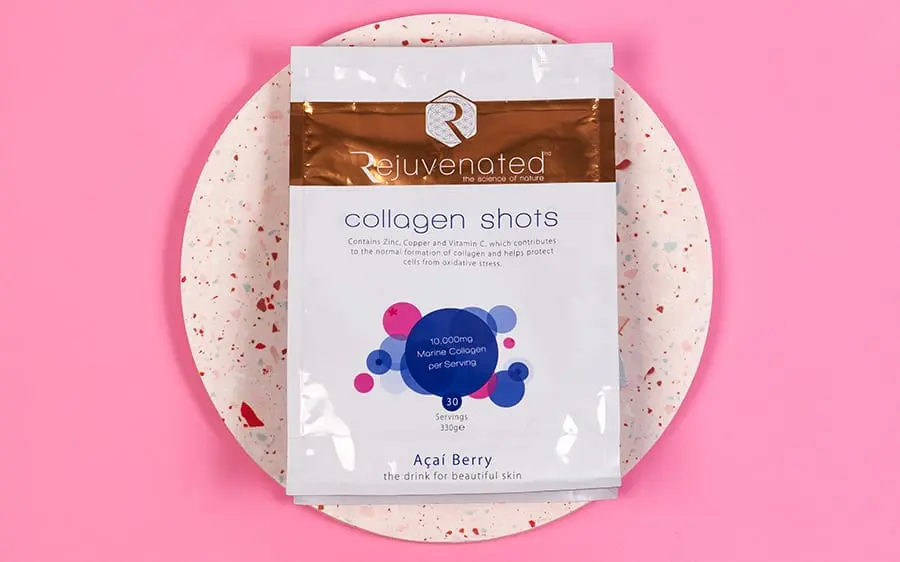 Do Collagen Shots work?
To our knowledge Collagen Shots by Rejuvenated is the only collagen drink to have clinical trials completed with our specific collagen and dosage. Many statistics are thrown around in the industry so we are proud to say that an EU funded study sets us apart. You can find the results of the study on our science pages.
'Before and after 'Rejuvenated collagen shots' – No tricks. No photo shop. Just 5 weeks of these brilliant Drinks. Not only is my face looking almost human my skin is the best ever.. TRUST me if they work for me they will work for ANYONE…Loving them.' Hazel.
'I caught my reflection in the mirror and subconsciously thought 'she looks good' like a reflection I used to see when I was in my 30's. I'd started taking night capsules the day before…didn't expect to see the results so soon!' Kerry, make up artist.
'I really couldn't live without Collagen Shots & H3O Night Repair now, my skin is so much smoother and the texture has improved.' Stephanie Waring, actress Hollyoaks.
'This product is my all time favourite purchase! I love it and tell everyone about it. Not only do people comment on how fresh faced and flawless I look but the Collagen Shots work from the inside out so they work not only on your face, but your whole body. After 3 children I can't tell you how much Collagen Shots has improved the appearance of my stomach and the elasticity of my skin. I would recommend this product to anyone and everyone.' Kirstin.
'I absolutely love Collagen Shots, I get so many compliments about how flawless my skin looks, I just couldn't be without them, I have a shot every night before bed, they really are little gems.' Michelle.
'Love mine! Got told I look a whole 9 years younger than my actual age yesterday yay!' Kirsty.
All our formulations are created with the very finest ingredients to be as effective as possible. Some of our customers notice a difference in just a few days, however, the majority will definitely see a difference within the first 30 days.
What difference will Collagen Shots make to your skin?
Clinical trials using a daily serving of 10 grams of our collagen have shown exciting results in the improvement of skin texture and the reduction of fine lines and wrinkles. We all have a unique biochemistry and some of the benefits of drinking daily collagen have been.
Reduction in fine lines
Glowing skin
Softer smoother skin
Greater hydration
Less lines in the décolleté
Smoother hands
Softer elbows and heels
Feeling of well being
You can find out more about how and why Collagen Shots work so well in our questions and answers section.
Why not discover the benefits for yourself and take our 30 day Rejuvenated Challenge, take a photo before you start and in 30 days time. We'd love it if you could pop them over to us at [email protected] every month we will pick the best one to receive a free 30 day supply as a thank you for sharing.