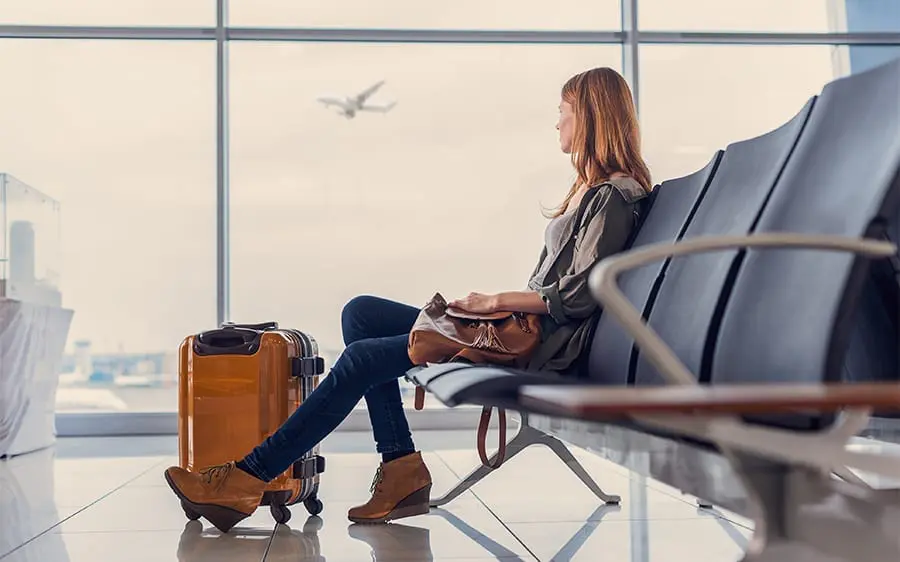 If you are jetting off to far-flung, tropical climes this summer, chances are you'll already be counting down the weeks and the days until you hit the beach, cocktail firmly in hand.
For weeks and even months before our vacation, many of us will be embarking on pre-holiday skincare regimes, hoping to look our sizzling best on the beach or in the bar. Yet, in our quest to look glamorous in our bikinis, many of us forget one important step in our holiday beauty regime: taking care of our skin on the plane.
Unfortunately, the arid environment on planes cause havoc for our faces, drying out our skin and absorbing all moisture. Far from a glamorous arrival, this can leave us looking grey, pallid and more than a little lacklustre once we reach our final destination.
So, how do we ensure our skin stays in tip-top condition during a flight? Here is our in-flight skin SOS, with all our top beauty tips on looking after your face when onboard a plane:
Pre-Flight:
Hydrate, Hydrate, Hydrate
Before you hop on the plane, ensure your skin is hydrated from the inside, out – the more hydrated, the better!
Grab a large bottle of water once you are through security (or, ideally, take your own BPA-free bottle and fill it up once you are in the departure lounge) and sip it throughout your journey for plumped-up, dewier and fresher skin.
For a true hydration boost that's worthy of supermodel skin, try adding our H30 Hydration formula to your water. Containing specific nutrients to enhance water absorption – including the so-called Fountain of Youth, hyaluronic acid, and the super antioxidant resveratrol – this miracle formula can help to balance cellular fluid levels, leaving you with radiant skin. It can even boost your energy levels! Jetlag, what jetlag…?
Go Make-Up Free
If you dare to bare, travel with little or no make-up. A clean face will help to protect you from clogged pores, and will also enable you to apply moisturisers or masks in-flight.
If the thought of leaving the house without make-up isn't for you, then mix a tinted moisturiser with a serum and apply to skin for a dewy, hydrated complexion.
Prepare:
Get your skin hydrated and nourished, ready for the in-flight moisture-sapping. We like to prepare our skin by slathering on a serum to boost hydration and moisture, before adding a hydrating moisturiser and eye cream on top. If your beloved face creams won't fit the luggage allowance, decant them into travel-sized bottles and jars beforehand so that you can safely stash them in your hand luggage, ready to use when your skin is in need of some TLC.
Give your body and hands similar care by applying a super-moisturising body cream before travel, too. We also travel with a nourishing lip balm (we love Omorovicza Perfecting Lip Balm) to keep our lips kissably soft.
SPF:
As well as applying moisturising creams and serums, we also recommend slathering on a quality facial SPF – ideally one that protects against UVA and UVB rays – before you board the plane. However, be sure you look for a cream that is free from zinc and is not mineral-based as these can dry out your skin.
Many people forget to apply an SPF before travel, but it's important to know that you can catch those damaging UV rays through plane windows! Unfortunately, the higher altitude means you are even more at risk of ultraviolet rays, which can be ageing and cause skin damage and even cancer.
Supplements:
If you're travelling overnight, why not try packing a skin-loving supplement before you climb onboard?
Our H30 Night Repair capsules are easily stashed into hand luggage and can help you to wake feeling refreshed and renewed. A unique blend of potent herbs and antioxidants with super hydration while you sleep, they offer nutritional support for healthy skin. Alternatively, why not try one of our 7 day collagen travel packs? A full week's worth of individual collagen packets (also a great way to test out the brand!)
In-Flight:
Spritz:
A refreshing facial spritzer is a must-have for long-haul (or any, for that matter) flights. A quick spray of a facial mist can leave parched skin feeling soft and fresh, and it will give you a quick wake-up too! We love Caudalie's Beauty Elixir, which comes in both full-sized and travel-friendly bottles.
Apply a Mask
At risk of scaring your fellow passengers, why not treat yourself to a mask? Anti-ageing or moisturising sheet masks are great to apply (simply zone out and watch the in-flight movie while it's on) and your skin will love you for it, too. Once you take it off, simply apply your regular facial serum and moisturiser for a super-charged skin treat.
As the plane starts to descend, you may also like to pop on a few soothing eye masks to help you lose the puffy look – a great tip if you can't sleep on planes overnight!
Sleep:
This may be easier if you can afford to stretch to first-class travel, but aim to get some sleep on your flight. Not only will this help you to arrive feeling energised and happy, but it will also help your skin to stay fresh, too.
When You Arrive:
Clean Up:
Make sure you erase the in-flight dirt and grime by cleansing your skin the first chance you get – we recommend packing a small bottle of micellar water and having a quick refresh once you've collected your cases.
If you still feel icky, smooth some highlighter (we love Charlotte Tilbury's Flawless Skin liquid) over the high points of the face, before applying some more lip balm. This will help to give you that glow back.
Moisturise and Re-Hydrate:
Yes, we know that you've already slathered on the moisturiser, but aim to do it again after landing – especially if you've been on a long-haul or Red Eye flight! Once you've cleansed, follow up with your favourite serum and face cream, and smooth some balm over your lips, too.
Make sure you sip plenty of water, too, and rehydrate with some more H30 Hydration.
You might be jet-lagged, but no one will ever know…!