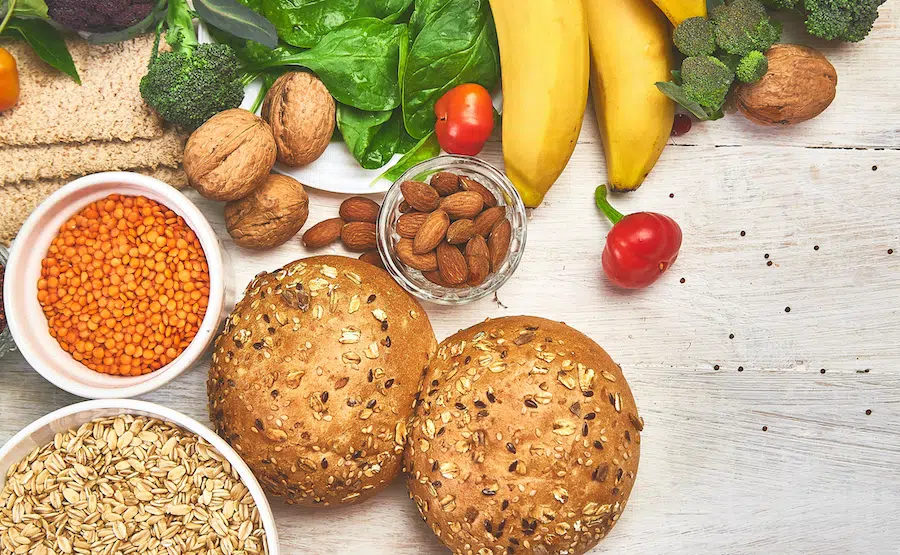 How can you increase the fibre in your diet without having to eat bran for breakfast? New government guidelines indicate that we should eat at least 30g of fibre daily*. The secret is to find great tasting high fibre foods rather than the cardboard flakes in some cereals. Here are some tasty treats that you can make for a quick win to increase the fibre in your diet.
Avocado is a favourite of mine and you can add it to almost anything. It makes a smoothie deliciously creamy and adds fibre to a delightfully decadent chocolate mousse.
Almonds and almond butter are tasty treats. The nut contains 8.4g of protein per 100g. Eat almonds as a snack or add almond butter to apple slices, oatmeal, a smoothie or wholegrain toast.
Make up a batch of fibre rich soup at the weekend. The varieties and flavours are endless. Roast root vegetables, blend with bouillon and add a few legumes for good measure. This can be heated through during the week for a quick, filling, fibre rich lunch. You can add extra flavour with chili.
When it comes to salads. Spice things up with a sprinkle of the unusual on your plate! There are no rules as to what can go into the making of a salad, check out the fridge and store cupboard and go for it. Grilled veggies, leftover quinoa, spicy roasted sweet potato, fresh fruit, or roasted veggies are just a few choices. It keeps things interesting and is a great way to top up your fibre levels.
When you haven't got time to cook from scratch, here's what to look for on the supermarket shelves.
Steer away from over processed foods, most cereals are loaded with sugar, however Ryvita's are a good choice. Even though highly processed, they are high in fibre and you can add a multitude of toppings.
In the ready-made salad and dip section, you'll find humus, guacamole, and pots of edamame salad. Edamame are one of my favourite they make a great snack and you can also toss them into stir-fries, rice and salads.
Ryebread is one of the healthiest (if not the healthiest) bread on the shelves. It contains 6 grams of fibre for each 100g.
And some foods that you might not know are fibre heroes
Beets are packed with fibre and can be used in so many ways. Add them to salads and try them in soups, smoothies, they can even be grated and added to a chocolate cake.
Pears are often overlooked in favour of apples but gram for gram, pears are higher in fibre, and they can help to control blood sugar making them the perfect fruit to help to keep you full.
Pistachios are high in fibre and a great source of manganese and phosphorus. They make a perfect snack whether you're on the road or relaxing in the evening.
While you may think that a soft fruit like bananas doesn't have much fibre, one medium banana actually contains more than 3 grams. They're incredibly versatile and can be added to smoothies, porridge, fruit salads and baked goods.
Eating a fibre rich breakfast gets you a great start to the day
Avocado on wholegrain toast is packed with fibre and is delicious at any time of day. You can add smoked salmon, scrambled eggs or grilled haloumi too.
Oatmeal or porridge with added berries, nuts and seeds
You can add a multitude of fibre rich ingredients to a smoothie. Protein Smoothie by Rejuvenated contains 4.5g of fibre including glucomannan and inulin which is a great probiotic fibre. This recipe makes a delicious açai bowl smoothie and gives a total of 12g of fibre in total
2 tsp Açai powder
1 cup almond milk
1 Banana
1 cup Frozen berries
¼ cup Oats
Blend all ingredients together and serve in a bowl.
These choices can increase the fibre in your lunches and dinners
Baked potato filled with lentil dahl
Wholewheat pasta with chopped tomato sauce, garlic and chillies
Roast Butternut squash is an excellent choice. It's full of fibre and can be used as a base for vegan curries and soups
Substitute regular pasta for lentil pasta
Pearl barley instead of rice for risotto
For a soup
1 onion chopped
2 Cloves garlic
1 Whole butternut squash peeled and chopped
3 apples chopped
1L vegetable stock
Few fresh sage leaves
Salt and pepper to taste
Method
Heat some oil in a pan, then add the onion and fry until fragrant. Add in the garlic and continue to cook, stirring often, for a few minutes.
Add in one apple and the squash and continue to cook, stirring frequently, for five minutes.
Add in the veg stock, then bring to a simmer and cook until the squash has softened. Blend smooth, seasoning to taste, adding more liquid if desired.
Now, gently fry the remaining apples until caramelised. Sprinkle with a touch of sugar, if desired. Heat the sage until crisp. Serve scattered on top of the soup.
Snacks to increase the fibre in your day
Humus with chopped vegetables
Banana on wholemeal toast or Ryvitas
Apple slices with peanut or almond butter
Smashed chick peas on toast
Increase the fibre in your diet with Protein Smoothie
*https://www.bhf.org.uk/informationsupport/heart-matters-magazine/nutrition/fibre