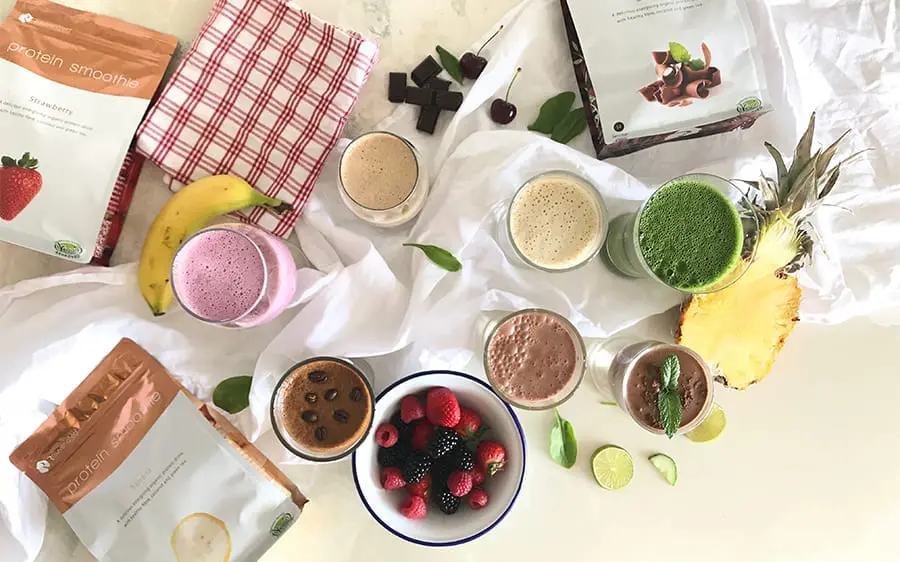 Pack extra protein power into your day with 7 gym inspired smoothies.
If you get fed up of the same old protein shake then why not jazz them up with our super quick tried and tested delicious options. You can use any milk you choose and also mix with water if you are being mindful of calories or protein content
All these smoothies are so easy to make, just throw the ingredients into a blender or nutribullet, give them a quick blast and it's ready to drink.
THE CHOCOHOLIC SHAKE
1 scoop Chocolate Protein Smoothie
300 ml hazelnut milk
1 dessert spoon cacao
THE NUT BUTTER LOVER
1 scoop Banana Protein Smoothie
300ml almond milk
1 dessert spoon almond butter
1 Banana
THE COFFEE LOVER
1 scoop Banana Protein Smoothie
300 ml oat milk
2 tsp instant coffee
If you'd like a macchiato use Chocolate Protein Smoothie
THE COCKTAIL LOVER
1 scoop Banana Protein Smoothie
300ml coconut milk
100g pineapple chunks
1 banana
BERRYLISCIOUS SMOOTHIE
1 scoop Strawberry Protein Smoothie
300ml coconut milk
200g mixed berries
BLACK FOREST SMOOTHIE
1 scoop Chocolate Protein Smoothie
300ml almond milk
100ml black cherries, pitted – we use frozen cherries
GREEN POWER BOOST
1 scoop Banana Protein Smoothie
300ml almond milk
1 tsp matcha powder
1 handful spinach leaves
1/2 avocado pitted