Serves: 4
Prep 5mins, Cook 15mins
283 kcals / serving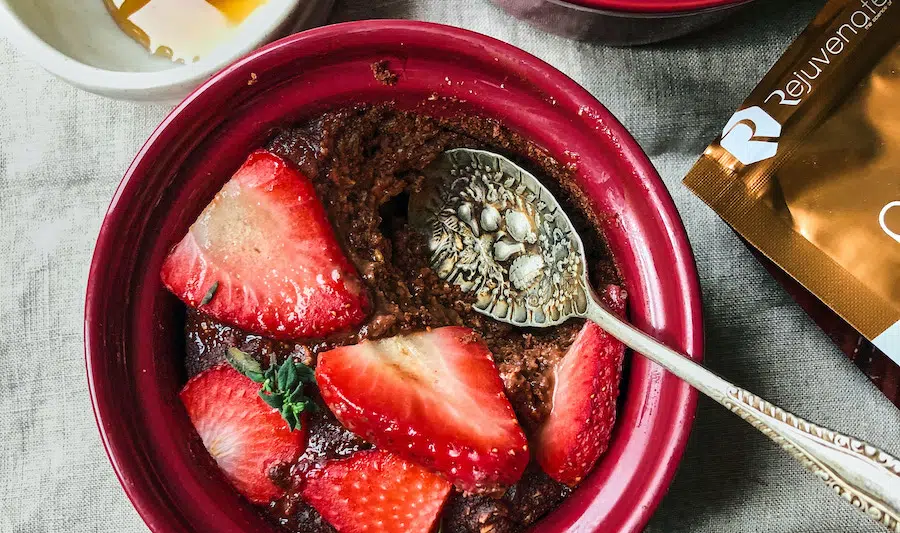 Recipe Info

You are going to love this delicious chocolatey oat bowl by the amazing vegan recipe creator, Niki Webster of Rebel Recipes. Treat yourself or someone special to the perfect breakfast or dessert. Prepared in minutes and cooked in a quarter of an hour, it's so yummy, that you'll be making up a second batch.

Instructions
Step 1 -
Add all the dry ingredients to a large bowl and mix to combine
Step 2 -
Add in the plant based milk, vanilla extract and 2 tbsp of the yogurt. Mix everything well.
Step 3 -
Divide the mix between two -4 oven proof dishes/ramekins depending on the size
Step 4 -
bake for 15 minutes
Step 5 -
Top with the sliced strawberries and a sprinkle of brown sugar
Ingredients
120 g Rolled oats
5 tbsp Ground almonds
1 tbsp Chopped nuts
1/2 tsp Cinnamon
1 Sprinkle Brown/coconut sugar
2 Scoop Chocolate Protein Smoothie
1 Pinch Salt
350 ml Almond milk
4 tbsp Greek Yogurt
1 tbsp Tahini
1 tsp Vanilla extract
4-6 Strawberries