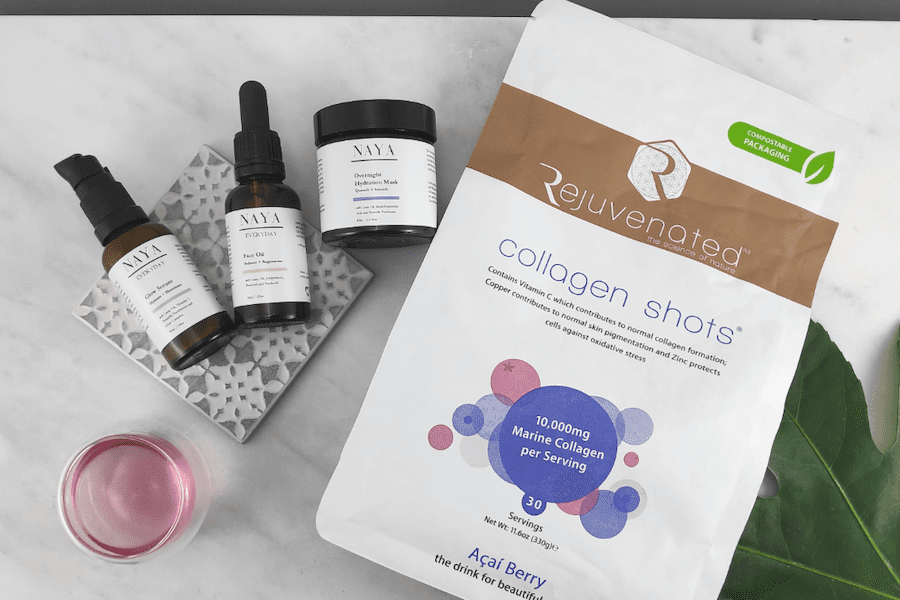 Facial care and body care are part of everyday life for all of us. In particular, after a long winter we have to take care of our dry skin. Because let's be honest: we are winter tired. Rough skin on the arms and legs, as well as the pale, often impure and uneven complexion, wrinkles around the eyes, chapped lips, neglected feet, the list goes on. The long cold season looks like an enormous dry spell for our skin. Literally. While we are freezing outside in the cold, thanks to the heating, it is summery inside – creating quite a challenge for our skin. As the sebum production slows down during the cold season, the skin's own protective coat weakens – the fine film of fat and moisture on the skin is getting thinner. As a result, harmful substances and irritants can penetrate more easily and cause skin stress. In addition, much more natural moisture is lost when the air is dry due to the heat.
But there is good news.
So that our tired-looking skin can experience the change of seasons as relaxed as possible and have a beautiful glow, we can start to gently wake it up from the winter sleepiness. So bye, bye winter, until next time.
Quench your skin's thirst
Think sun protection and moisture instead of overly greasy creams and too much make-up. The secret recipe for skin care in spring is that simple. Use products with hyaluronic acid and regularly move in the fresh air. It creates the best conditions for the complexion to be healthy and radiantly beautiful in the warm season.
Instead of water-in-oil formulations that protect against the cold in winter, the skin now primarily needs moisture, i.e. lighter oil-in-water formulas.
The skin is particularly sensitive in the transition period, which is noticeable through dry spots. No matter how often you apply cream, it doesn't get any better. There is a simple solution: quench your skin's thirst with hyaluronic acid, or nature's answer the silverear mushroom. Products containing hyaluronic will help to deeply hydrate each layer of your skin to give your skin back its bounce and also make it look fresh and plump. If you suffer from particularly dry patches, treat yourself with a hyaluronic mask. Apply it overnight so that the skin has the opportunity to absorb the moisture it needs. In this case, don't be afraid to use too much. The skin only absorbs as much moisture as it actually needs.
Your complexion will quickly look much rosier and fresher again.
Spring cleaning the skin
Not only does your apartment need a spring clean. Your skin would also like to be prepared for the easier season. Moving from drying heating air to icy cold climates made it difficult to manage the skin during the winter season. Thus, a deep cleanse using a peeling is best suited for this. This effectively removes dead cells and dry skin cells and helps your skin breathe deeply.
With a thorough exfoliation, the old, dry dandruff can now be removed. You can simply use a loofah and use it under the shower or make it part of your day and night care on your entire body to gently exfoliate your skin. In addition, treat yourself to a beautiful mask to clean your pores. You can use exfoliation mask that use actives such as alpha hydroxy acids (AHAs) and beta hydroxy acids (BHAs) to dissolve the "glue" that binds old skin cells together on your skin's surface, all without any scrubbing or scraping. This type of exfoliations can be surprisingly thorough and a gentle way to clean your pores on a deeper level. In fact, research shows that regular use of glycolic and lactic acid (both AHAs) leads to significant skin improvement and rejuvenation.
Vitamin Boost for rosy-looking skin
Now it is important to support the skin's metabolism and strengthen its balance with antioxidants. Antioxidants protect the outer layers of the skin from free radical damage. Your typical antioxidants are A, C, E and in addition use ingredients such as green tea or polyphenols. But a real powerhouse is niacinamide. It supports and strengthens your skin barrier and alleviates skin tone irregularities.
Sun protection
When the long winter finally comes to an end and we step outside our homes to enjoy the first sunny rays, it is time to adjust the skin to spring and summer. Instead of wintry paleness, sun-kissed skin is announced again. It is often forgotten that the delicate rays of the spring sunshine are quite intense. Those who refrain from good sun protection when it comes to skincare in the spring, don't do their skin a favour. As our skin needs to slowly adjust and get used to the sun rays again after a long winter. And even if it has built its own protection, this is barely enough to effectively prevent sunburn, premature ageing and possible wrinkles. The top rule for skincare in spring is therefore. Never give up high-quality sun protection.
Finally, in this season, the motto is "less is more". Instead of resorting to heavy make-up, a slightly tinted day cream is usually sufficient for skincare in spring. But make sure it has hyaluronic acid as part of its formulation to hydrate your skin throughout the day.
Sarah Zimmer is the founder of NAYA. NAYA's brand philosophy is of a 'less is more' approach; not only because it is more sustainable to the planet, but also more sustainable to your skin. Their vegan, cruelty and toxic free products were created in collaboration with the Green Boutique laboratory in Germany. The efficacious collection contains a high concentration of plant-based nutrients which are scientifically proven to transform the skin from within. The brand's star ingredient is cacay oil, which is sustainably sourced directly from Columbia. The brand works directly with the farmers involved to protect and harvest 30-50 hectares within the rainforest to grow indigenous plants from the area.
Discover more at Naya Glow